Decreased activation in the Dorsolateral Prefrontal Cortex (DLPC) is shown on fMRI in All Traumatic Brain Injury & Concussion Patients with Symptoms
April 15, 2020
/
/
Comments Off

on Decreased activation in the Dorsolateral Prefrontal Cortex (DLPC) is shown on fMRI in All Traumatic Brain Injury & Concussion Patients with Symptoms
Decreased activation in Dorsolateral Prefrontal Cortex (DLPC) are shown on fMRI in All Brain Injury & Concussion Patients with Symptoms Despite normal score on Memory Task
Athletes in the PCS Improved group had an initial activation in the left temporal lobe that was not seen in the control group.
Along with the presence of Post Concussion Symptoms (PCS), there is an initial functional deficit in the prefrontal cortex and concurrent recruitment of other brain regions as a compensatory mechanism to carry out the task.
Upon symptom resolution and recovery, the DLPC appears to resume its function. The Left Temporal Lobe is no longer activated during the memory task because a compensatory mechanism is no longer necessary.
This would explain the normal behavioral performances & scores on working memory tasks shown by the concussed group in spite of the presence of symptoms.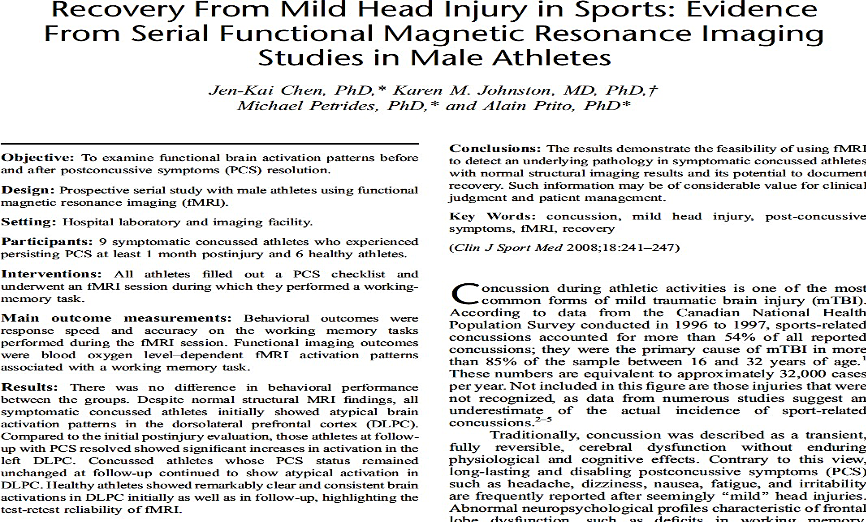 There is a correlation between decreased activation in Dorsolateral Prefrontal Cortex (DLPC) as a cause of the symptoms experienced in the Population of Concussion Patients Still Suffering Post-concussion symptoms Despite normal score on Memory Task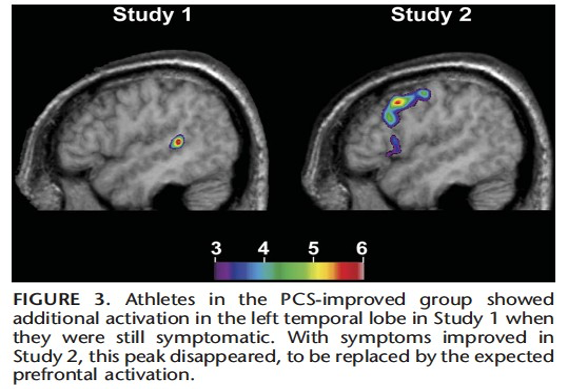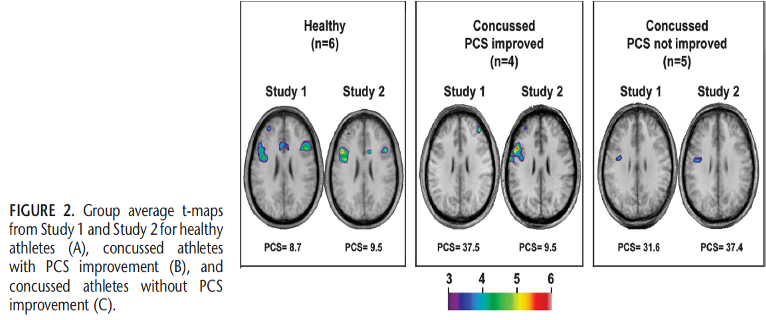 Since all symptomatic Brain Injury patients have decreased activation in DLPC, what therapies or forms of stimulation can be used to increase the activation in the DLPFC?
Forms of stimulation or Brain-based exercises that activate the Dorsolateral Prefrontal Cortex are:
Complex Memory-guided Saccades
Antisaccades
Go- "No-Go" Cognitive Eye-Hand Coordination Saccade Tasks
Complex balance tasks